Invisalign
Why Choose Invisalign?
Yes, there are other options for straightening your teeth, however, there is no other way that is as comfortable as Invisalign. No matter what stage you are in your life, Invisalign is convenient and will allow you to be confident with your smile. Invisalign makes it easy to feel great about your smile and overall appearance, so come in today for a better and more beautiful smile!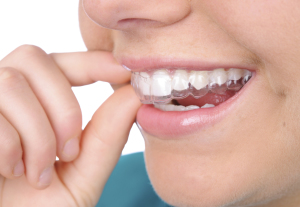 Why are crooked teeth a problem?
Teeth are naturally not aligned perfectly straight. This is called "malocclusion". If malocclusion is left untreated it can lead to periodontal disease and create a lot of stress on your teeth and the overall well being of your body.
What Malocclusion looks like?
Crowding
Build up of plaque and tartar
Difficulty flossing
Risk of bone loss
Spacing
Food getting stuck between teeth
Risk of periodontal disease
Invisalign Treatment Process
Contact Eid Dental Clinic and speak to our preferred Invisalign provider. Arrange your consultation and from there you will learn if you are a good candidate for Invisalign.
At your next visit the doctor will take x-rays and impressions of your teeth, which Invisalign uses to create a 3D image of your teeth and the progress throughout each tray.
You will receive your custom aligners.
Every two weeks you will return to the office to change your trays and you will be able to witness the fabulous changes in the look of your teeth. The treatment will vary depending on the case.
Each case is unique to every patient and depending on the severity of the case, the length of treatment can also vary. As a general rule of thumb, you should be wearing your aligners for 20-22 hours everyday for optimal progress. Enjoy your Smile!
Benefits of Invisalign
You can eat WHATEVER you want, WHENEVER you want
Clear aligners that are virtually invisible
Smooth, comfortable plastic instead of sharp metal
Easy to clean and remove any time of the day